TRACE ANALYSIS & CONFIRMATION
CBRNE and HAZMAT emergencies rarely occur in the safety of a laboratory – they can happen anywhere. The Griffin™ series of trace analysis tools delivers lab quality results in field-ready packages that anyone can use. The common simplified user interface offers quick, simple, and accurate answers that lead you to action.
CHEMICAL, DRUG AND EXPLOSIVES DETECTION
Griffin instruments use next generation mass spectrometry technology to accurately detect and identify explosives, drugs, CWAs, TICs, environmental pollutants and a wide range of other chemicals. Each Griffin model is built to operate in challenging environments, from road vehicles and deployable lab containers to entry control checkpoints and temporary tent structures. Unique sample inlets and hassle-free sampling accessories enable operators to analyze air, liquid, or solid samples. The combination of intuitive software and expandable libraries provide users with high fidelity, easy to read results that instill confidence at the site of action.
The FLIR Griffin 400-series mobile GC/MS systems are designed to meet rugged, MIL-STD 810G standards and are built to operate in moving vehicles. Integrated sample inlets and quick connect sampling tools extend missions to remote locations and help expedite chemical identification near the site of action. The Griffin 400-series provide the ease of use and gold-standard intelligence needed to perform real-time countermeasures that protect public safety.
LAB QUALITY, MOBILE GC/MS THAT ANYONE CAN USE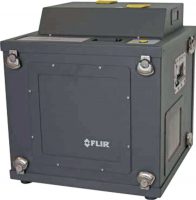 Quick connect sampling tools
Lab-quality capability at the site of action
Simple data presentation and user controls
EXPLOSIVES AND NARCOTICS DETECTION AND SCREENING
Significantly Lower False Alarm Rate
Expandable Threat Library
Maximum Operational Availability
A desktop trace detector that is used to screen personal belongings, parcels, cargo, skin, vehicles, and other surfaces for explosives and narcotics threats. FLIR's exclusive mass spectrometry technology offers dual-mode detection and alarms only for true threats. It is equipped with an unprecedented, expandable library that protects against current and future threats. The innovative system design ensures fast and reliable clear-down, eliminates overnight bake-outs, and minimizes maintenance.
EASYBUILD SECURITY CONSULTANTS' is a division of EasyBuild Nigeria Ltd and a multi service comprehensive security solutions company for challenging unique problems.
© 2023 - EasyBuild Security Consultants Limited.